Colin Cowherd Says the Dallas Cowboys Should Trade Ezekiel Elliott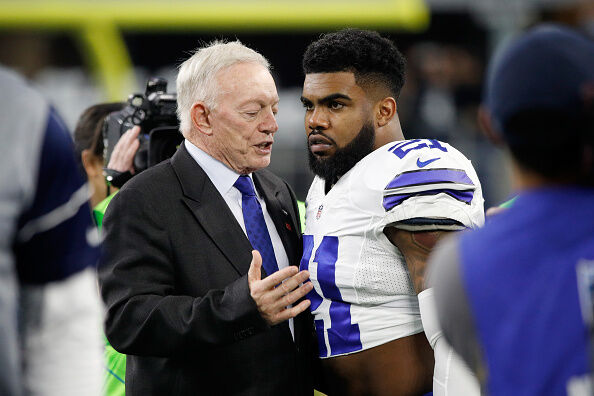 Colin Cowherd:

"I'm going to say something that is going to make people go nuts but just take a deep breath and listen… TRADE EZEKIEL ELLIOTT. This is not the NBA where after the 8th draft pick you're out of players, it's the NFL where half of the league is undrafted and there's football talent EVERYWHERE. You do not give a running back after three or four years in this league a big contract. He's seen as the best running back in the NFL and his value will never be higher than today. From this point forward, more dings, more judicial issues, not great judgement, and his value goes down. You could get a HAUL for him. Stop living in fear, I'm not gonna be held hostage by NONSENSE."
Listen to Colin Cowherd explain why the Dallas Cowboys need cut ties with superstar running back Ezekiel Elliott, as the 23-year-old who will turn 24 next week is reportedly ready to start a messy holdout with two years still left on his rookie contract.
Colin says intelligent football teams pass on breaking the bank for workhorse running backs that play the sport's most vulnerable position, with the Arizona Cardinals and Los Angeles Rams recently finding that out the hard way with their regrettable deals with David Johnson and Todd Gurley.
With Zeke's off-field issues always going to be a major liability looming going forward, Colin says there is no point to commit another four years to a guy who has already carried the ball 868 times in only three seasons.
Check out the audio below as Colin says the Cowboys front office, already considered one of the best drafting groups in the NFL, should find a suitor that would have to package over a major trade haul for arguably the game's best running back.

The Herd with Colin Cowherd
Want to know more about The Herd with Colin Cowherd? Get their official bio, social pages & articles on FOX Sports Radio!
Read more