Thunder Reportedly Wanted to Dump Russell Westbrook's Massive Contract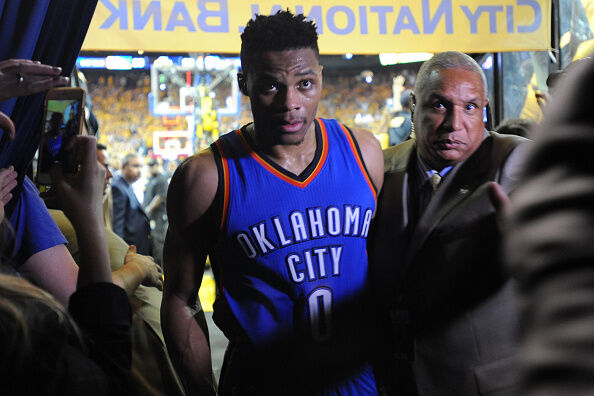 Colin Cowherd

: "I've been saying for the last 2-3 years that everyone in Oklahoma City with half a brain knew that Russell Westbrook can't be your no. 1 guy. He's difficult, he's brutal with the press, he's rigid, he won't change, and he can't win games in the first round. They couldn't criticize Westbrook because it's harder for small markets to do that. Westbrook was dictating policies because Oklahoma City knows they don't get stars. They weren't going to blast Westbrook publicly but THEY KNEW they were going to do this."
Listen to Colin Cowherd comment on a recent column written by Kevin O'Connor of The Ringer that detailed revelations from rival general managers that Oklahoma City Thunder general manager Sam Presti was secretly looking to trade Russell Westbrook long before Kawhi Leonard began recruiting Paul George to the Los Angeles Clippers.
A portion of the article reads:
"Sam won't admit this, but he's too smart to not know this team reached its ceiling with Westbrook."
O'Connor wrote that losing the fan–favorite Westbrook was obviously extremely painful, but said executives across the league were lauding Presti for the Westbrook trade and calling the Thunder the 'summer's biggest winners.'
Another executive said the George trade gave Oklahoma City an 'out' where they could then go ahead and deal Westbrook without any backlash, considering Paul's exit would make it seem like the Thunder would then 'free' Westbrook from a broken team who was never going to contend.
The Thunder have 15 first round draft picks the next seven seasons.
Westbrook signed a five-year, $2016 millon deal before last season.
Check out the video below as Colin explains why OKC never could have won with Westbrook as their no. 1.

The Herd with Colin Cowherd
Want to know more about The Herd with Colin Cowherd? Get their official bio, social pages & articles on FOX Sports Radio!
Read more