Colin Cowherd: Ezekiel Elliott is Too Immature to Warrant a Big Contract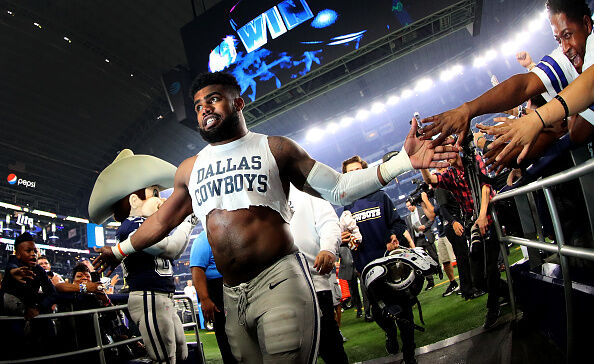 Colin Cowherd:

"Profootballtalk reports Zeke is going to hold out until he gets a new deal. Once again Ezekiel Elliott is causing organizational tension right before a season TWO YEARS out from a new contract. This is why I'm tough on guys like Baker Mayfield, Jameis Winston, and Johnny Manziel… I don't have time for you to grow up if I'm going to pay you a fortune. By the time Zeke is immature he's 28, 4,000 carries in, it's too late, and now I have to overpay him for a guy that's past his prime."
Listen to Colin Cowherd explain why he doesn't think Dallas Cowboys superstar running back Ezekiel Elliott is deserving of a long-term deal as rumors of the 23-year-old planning a training camp holdout continue to pick up steam.
Elliott is arguably the game's best running back as a two-time All-Pro who has led the league in rushing two out of his three career seasons, but Colin has a problem giving big money to the sport's most vulnerable position, and to a guy who has already established himself with an extremely sour reputation from mischievous off-field circulars.
With the big money running back deals of Todd Gurley and David Johnson now looking like two of the worst contracts of the decade, Colin says there's no way he's selling the farm for an immature and unbalanced personality who has already touched the ball over 1,000 times in his three-year career.
Check out the audio below as Colin says Zeke could be the next Dez Bryant in Dallas.

The Herd with Colin Cowherd
Want to know more about The Herd with Colin Cowherd? Get their official bio, social pages & articles on FOX Sports Radio!
Read more